With voice search on the rise, voice search optimization is becoming more and more important. In this article, we'll give you some tips on how you can get started with optimizing your content for voice search and make sure that your content reaches your target audience.
When Apple introduced Siri in 2011, talking to your phone may have seemed like little more than an entertaining gimmick. Fast forward to today and voice assistants – whether on mobile phones or smart speaker devices – have firmly found their place in everyday life. In 2020, there were 1 billion voice search queries per month alone. The growth of voice search is a compelling argument for businesses to adopt voice search optimization as part of their search engine optimization (SEO) strategy.
In this article, we'll look at how you can get started with voice search optimization. But before we dive in, let's first get a global understanding of the concept of voice search.
Voice Search: What Is It and Why You Should Care
Voice search refers to the process which allows people to search the internet by speaking a voice command to a device rather than by typing their query. Voice search lets people browse the internet quickly and conveniently, be it to get the day's weather report, find the nearest coffeeshop, or look up the definition of a word.
Thanks to increasingly sophisticated algorithms and constant improvements of speech recognition technology, the capacities and uses of voice search have been steadily increasing for the past two decades. Today, 72% of people who own voice-activated devices use them as part of their daily routine. More than 40% of people use mobile voice search on a regular basis, and 47% of queries directed to smart speakers are for online search purposes.
In the face of these numbers, it is important for businesses to optimize their content so that it appears in voice searches.
Voice Search Optimization and Position Zero
In voice search, users cannot scroll through the different search results. The search engine selects one answer to read to the user.
The crucial question is: how does it choose this answer?
According to a voice search study by Semrush, 80% of the voice search answers were pulled from the first three organic search results; 70% were from a search engine results page (SERP) feature, 60% of which were from a featured snippet.
You may have noticed that Google sometimes shows you web content framed in a box at the very top of the search results page. This is a featured snippet. It highlights the content Google thinks provides the most relevant answer to a question. This content is placed at the very top of the page, in what is called "position zero". Position zero refers to the fact that it appears even above any paid and organic search results.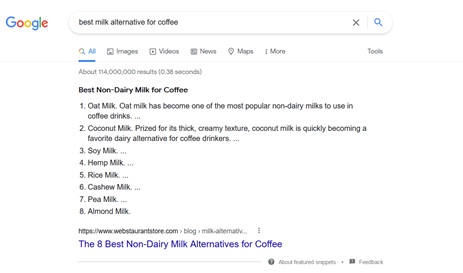 So, optimizing for voice search essentially means maximizing your chances of claiming position zero. Here are four tips on how you can achieve this.
How to Optimize for Voice Search
Target Long-Tail Keywords
Users' search queries differ depending on whether they are speaking or typing. Researchers have found out that on average, typed queries contain 1 to 3 words, whereas spoken queries contain more than 7 words. Whereas a typed query is more likely to search for "weather Austin", a voice search query is more likely to be a conversational phrase or question, for example: "What's the weather like today in Austin?".
It is important to take this into account when optimizing your content for voice search. You can achieve this by optimizing your website using long-tail keywords and making your content more conversational. Adopting a conversational tone which includes long-tail keywords suits voice search patterns better and your content has a better chance of ranking higher in voice search results.
Answer Frequently Asked Questions
We've seen that voice search queries are often formulated as questions: how, what, where, why. In addition to long-tail keywords, it's therefore a good idea to create content that targets question keywords. To do this, you might consider reformulating your long-tail keywords into questions.
To find out what questions people are asking, try adding a question word to your keyword and looking at Google's autocomplete suggestions.
A great way of integrating answers to frequently searched questions is by adding an FAQ section to your website. FAQs are not only an easy way to integrate question keywords, but also provide Google with a convenient format for showcasing your content in featured snippets.
Think Mobile First
Seeing as over one quarter of the world's internet users use voice search on their smartphones, ensuring that your website is mobile-responsive is essential. A mobile-friendly website is hence not only part of every successful SEO strategy, but also a must voice search optimization. Google's mobile-first indexing means that the search engine evaluates the mobile version of a website when it comes to ranking it.
Some of the ways to ensure that your site is mobile friendly are making sure that the site is responsive, the content easy to read, and the pages fast to load. Also consider testing if your website is mobile-friendly.
Be Local
Did you know that more than 55% of people look for local businesses on their smartphones using voice search? Leveraging your local presence is therefore vital for improving your rank in voice search results. Be sure to claim your Google My Business Listing as part of your voice search optimization strategy. Your address, contact details, and opening hours should all be up-to-date and accurate. Also think about adding a blurb describing your business – ideally using relevant keywords. This information allows Google to understand your business, its locations, and services, and makes it more likely that Google shows your business in relevant voice search queries.
Voice Search Optimization: An Integral Part of Your SEO Strategy
Technology is changing continuously and rapidly. Consumer behaviors change with it. People are taking advantage of the conveniences that new and improved technologies present. The challenge for marketers is keeping up with these constantly changing technologies and consumer behaviors.
The emergence of voice search has allowed for hands-free, quick, and convenient online searches. With voice search on the rise, it is up to marketers to integrate voice search optimization into their existing SEO strategies to remain competitive.
If you would like to keep up to date with the newest developments surrounding SEO, digital marketing, and web technologies, be sure to check out the TCLoc blog.