TCLoc is a flexible online master's degree for professionals already working in the fields of translation, localization, technical writing, multimedia, IT, or languages. The TCLoc master's program is unique as it combines all these fields and is carried out entirely via distance learning. This way, no matter where you are in the world, you can attend the courses and graduate with an accredited master's degree plus an internationally recognized certificate. All you need is motivation and a good internet connection!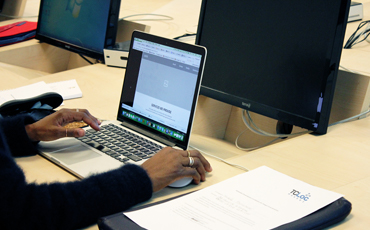 Format and Fees
Depending on your needs or preferences, different study options for the program are available. If, for example, you plan on working during your studies, you can choose to spread the coursework over a longer time period. Our affordable study options allow you to complete the program in twelve, seventeen, or twenty-four months. It's up to you!
Learn More
Curriculum
TCLoc provides up-to-date, practical courses and work closely with the most important industry body in technical communication, tekom Europe. Courses are taught by experts working in related fields such as localization, visual communication, project management, and web technologies.
Learn More