Do you want to sell a product or service or collect more subscribers? A landing page will definitely help you to reach this goal. But how can you make users land on your landing page? It is actually pretty simple: when users click on a search engine optimized search result or on a link you provide them in an advertising e-mail or in a social media marketing campaign, they will be redirected to your landing page.
Improve your online marketing: Create a landing page
A landing page is a powerful online marketing tool. Use landing pages for announcing special offers, introducing products to your visitors (no more than one product per landing page) or advertising an event, such as a webinar. Why? Instead of making your potential customers land on any existing page of your website where they might get distracted by irrelevant items, such as a navigation menu, you will create this special page for them.
Essential landing page content
A great landing page only contains the essential. Aside from risking to slow down your page's loading speed, too many elements distract visitors from the actual product you are advertising. Here are the 4 essential content elements of a landing page.
The Header
What do you want your visitors to know? Put your main message in a header that stands out visually and that is written in simple and unambiguous language. Including your main keywords in the header is crucial, not only for search engine optimization purposes but also because visitors will look at the header first — and at the pictures. We will get to that.
The Call-To-Action
The Call-To-Action (CTA) is the most important part of your landing page: tell your visitors what you want them to do. Keep in mind that your CTA should be short and aiming at a single goal, not more. Your CTA could be a button like "Try for free", "Sign Up", "Download Demo", or "Shop Now". You can use CTA-buttons several times throughout the page, but make sure they focus on your one objective. If you will be using any forms or fields, such as an e-mail address field for newsletter subscription, you should also keep the text as short as possible.
The Pictures
Pictures usually get most of the attention – and sometimes all the attention there is. So, you will want to emphasize your CTA by using emotional pictures that accurately represent the subject matter you want to promote: If the pictures explain your product/service, it's perfect!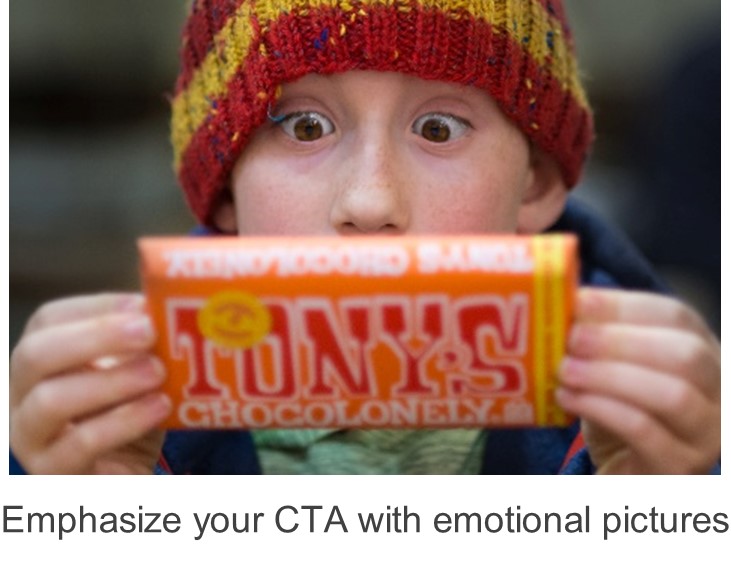 The Explanation
Provide your visitors with some more details on your product/service in an explanatory section to fully convince them: describe it, emphasizing its benefits and any special offers.
Of all the texts on your landing page, this section will be the longest. Still, try to keep it short: you do not want to overstrain your potential customers' attention span. Quality content is key to evoke their desire to buy your product. Make the explanation easy to read by structuring it in small sections. You are almost done! Now top it off with a picture that shows a solution to the visitor's problem and repeat your CTA with a clickable element. That's it!
After reading the explanation, it should be clear to anyone what you are promoting. If you did everything right, your landing page visitors have become potential customers!
Now you know everything you need to create great landing page content! But what SEO tricks can you use to make more users land on your landing page in the first place? And how can you localize your page in order to go international and attract users in other countries? The SEO and Localization courses of the University of Strasburg's TCLoc Master's program are a great opportunity to learn how to technically optimize and localize web pages!
Sounds interesting? Learn more or apply for the TCLoc Master's program.