Whether you're new to Project Management or already have some experience, this article provides a quick guide on how milestones can help you manage your localization project.
One of the teaching units in the Technical Communication and Localization (TCLoc) program is about Project Management. Some students may be new to this subject and want to explore more. Others may have some experience already, whether as a project manager/coordinator or as a freelance linguist.
Although translation and localization projects often seem quite transactional with quick turnaround times, it is still important to have a project plan in place. After all, the most common question stakeholders and clients ask is: is the project on track?
That question is easy to respond to when you have a concrete schedule and set milestones.
Why Include Milestones in Your Project Plan?
A milestone, as defined in the PMBOK® Guide and Standards, is a significant point or event in a project. Milestones have no duration because they represent a single significant point or event, unlike stages in a project that you must go through in order to complete your project.
This sounds easy. However, in reality sometimes we do not know what type of milestones we should set up for our own project plans.
So, who needs milestones? Why can milestones help in localization project management? What are typical milestones in translation and localization projects?
For a freelance linguist dealing with a project manager from a translation agency or language service provider, typical milestones are closely related to scheduling, completion status of the translation, editing, and/or proofreading. For a project manager, setting up milestones helps them track a project's progress and aim for a deliverable. Milestones are extremely important if you have to deal with large projects or staggered deliverables.
Some examples of Milestones
This CLDR – Unicode Common Locale Data Repository page shows some of my favorite examples of milestones. On the left of the page you can see a Milestone Schedule.
CLDR localization steps for project managers and linguists have 5 milestones: preparation, shakedown submission, general submission, vetting, and resolution. This means that once you complete the first milestone, i.e. preparation, you have just completed 20% of the project. When you reach the end of the second milestone, i.e. shakedown submission, you have completed 40% of the project, and so on.
Other simple examples of milestones are those that have already been embedded in certain Translation Management Systems (TMS) commonly used by translation agencies as automatic job assignments. You can read more details about TMSs on the GALA website: Translation Management System. A project typically consists of translation, editing, and proofreading. Each of these stages can be considered a milestone. So when a translator completes a translation and returns or uploads the file to the TMS, the program marks this first milestone as complete and automatically moves to the next milestone, editing. The process repeats until the last milestone is reached. The project manager/coordinator only needs to establish the starting date of each milestone.
The examples shown below are taken from a book translation project led by a freelance project manager in charge of a team of a few translators and an editor. She created a simple Google sheet document and shared it with her linguist team. The milestones were chapters of the book.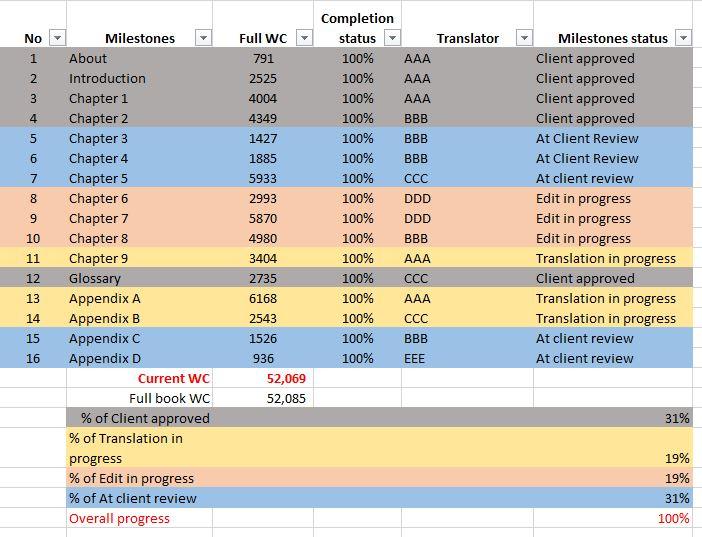 Tools to Use for Tracking Milestones
There are several online tools available for you to set your milestones (for example, see Capterra.com). However, for more straightforward projects, the easiest way to monitor your milestones is to simply create an Excel sheet or a Google sheet like the example above.
Conclusions and Next Steps
A milestone is an important component in project management. It can be a useful tool to communicate with clients and stakeholders about the progress of a project.
As you can see from the above examples, if milestones focus on monitoring the progress of a project, they are useful in scheduling. In short, when your milestones are not on track, it means you're behind schedule with your project and vice versa.
If you find this article useful, please leave a comment below or share it on social media.
Interested in learning more about technical communication and localization? Visit the TCLoc master program webpage to find out more about this exciting distance-learning master's program.