Why TCLoc at Strasbourg University?
TCLoc is a distance-learning program offered by the Faculty of Languages at the University of Strasbourg (Unistra), a public university in Alsace, France.

University of Strasbourg: A University of Excellence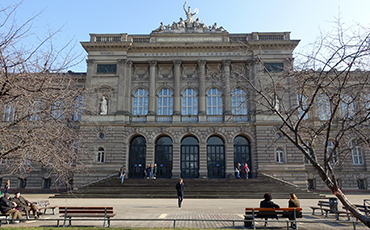 Every year, international students from all over the world decide to enroll at our university. The University of Strasbourg is the second-largest university in France with an increasing student population of over 50,000 students, of which 20% are international students. The percentage of international master's students is even higher at about 30%.
Composed of 5 faculties divided into 37 departments, the University of Strasbourg offers higher education in a wide range of academic fields from health sciences and the humanities to languages and the law. Moreover, Unistra is recognized as a University of Excellence by the IdEx government funding program and also boasts 3 Nobel Prizes earned by members of the staff.
The TCLoc master's degree program is offered by the Faculty of Languages, which provides language programs in 23 languages and almost 30 master's degrees alone. These master's degree programs are organized into four main fields: Applied Languages and Human Sciences, Language Didactics, Languages, Culture, and Civilizations, and Translation and Interpretation—where TCLoc is to be found. Although the TCLoc program includes courses relating to a myriad of other domains, it unites them all in the multidisciplinary field of languages.
"A warm welcome, excellent seminars, and very interesting people. It cannot get any better."

Josep Ventura, Freelance Translator
"A warm welcome, excellent seminars, and very interesting people. It cannot get any better."

Josep Ventura, Freelance Translator
Strasbourg: An Internationally Oriented City
The city of Strasbourg is a dynamic and diverse international hub. As the seat of multiple European (and non-European) institutions, not the least of which are the European Parliament, the European Court of Human Rights, and the Council of Europe, Strasbourg plays a major role in international affairs. Additionally, its proximity to Germany, Switzerland, Belgium, and Luxembourg makes it a culturally rich border town. Even Paris is less than 2 hours away by high-speed train. Furthermore, Strasbourg's historic Grand Island (Grand Île) was the first entire city center to be designated a World Heritage Site by UNESCO in 1988.
While offering the flexibility and accessibility of distance-learning, the TCLoc master's program also hosts two on-campus meetings for students to come collaborate in person with their classmates, attend extra seminars, and, of course, enjoy the beautiful city of Strasbourg. Check out the photos of our events in Strasbourg!